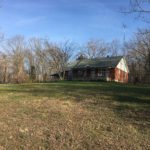 SOLD!
CW ABSOLUTE AUCTION APRIL 22, 2017 11:30 AM C.S.T.
SALE #2-House & 61.771+/- acres to be sold in multiple tracts, located at 2876 Brier Creek. Main level: 3 BR, 1 Bath, Den, Kitchen, Utility Room. Upstairs: 3 Rooms (Possibly 3 Bedrooms), Partial Basement, Brick house, Shingle Roof, Paved Drive, Edmonson Co. Water, Warren RECC, Foster Gas Tank, Storage Shed 16×16, 16×26 Carport, 7×27 Covered Front Porch.
Tracts 1-14 are all good building lots mostly open ground 2 combination barns right next to Nolin Lake State Park.
Tract 15-Mostly wooded tract w/apx 27.8+/- acres some timber with excellent views.
Tract 16-3.1 acres+/- with 3 bed 1 bath brick home out building and carport this was Mr. C.H. Logsdon's Home Place and has been very well maintain and up kept.
Directions for SALE #2-
From Leitchfield (parkway) take Hwy 259 apx 14 miles turn left on Hwy 728 go apx 7 miles turn left onto Brier Creek Rd go apx 3 miles to sale. Signs Posted.
From Munfordville/Cub Run Hwy 88, Take Hwy 1827 apx 8 miles turns into Hwy 728 apx 11 miles turn right onto Brier Creek Rd go apx 3 miles to sale. Signs Posted.
Terms: Buyer will be required to sign lead base paint waiver. 10% buyers premium to be added to final bid to determine final sale price. 15% down day of sale, balance due on or before 30 days. 2017 property taxes to be prorated. Gary Logsdon Administrator of Estate.
CW Auction Co. LLC, Chip Wilcoxson Principal Auctioneer-270-537-3205
Sale held in conjunction with Duvall Realty LLC-Mark Duvall (Broker)
270-734-9672.
Sanders&Sanders Auction Realty Service LLC Nelson Sanders (Broker)
270-597-6362, Keith Sanders (Auctioneer) 270-784-0054, Kerry Sanders (Sales Agent) 270-597-7058
AUCTIONEER COMMENTS: THIS IS ONCE IN A LIFETIME PROPERTY THAT HAS BEEN IN THE LOGSDON FAMILY FOR YEARS- CW AUCTION CO,LLC. DUVALL REALTY LLC, AND SANDERS & SANDERS REALTY & AUCTION SERVICES LLC COMPANIES ARE VERY HONORED TO CONDUCT THIS AUCTION FOR THE LOGSDON FAMILY.
All announcements made day of sale take precedence over all over advertisements. Join CW for another exciting auction! For more information and pictures please visit us at auctionzip.com, www.duvallrealtyllc.com, www.lakehouse.com.
WATCH AERIAL VIDEO AT: https://splice.gopro.com/v?id=6oADjd