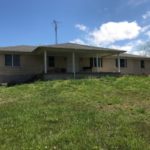 SOLD
LOCATION:7683 WAX ROAD, CLARKSON, KY 42726
2 HOUSES, BARN, CAR & PERSONAL PROPERTY
FROM MUNFORDVILLE: Take Hwy 88 approx 18 miles turn right on Wax Road (479) go approx 1 mile sale on right. (Signs Posted)
FROM CLARKSON: Take Hwy 88 approx 12 miles turn left on Wax Road (479) approx 1 mile sale on left. (Signs posted)
From MILLERSTOWN: Take Wax Rd (479) approx 7 miles to sale on right. (Signs posted)
Personal Property Partial List:
Feather bed/pillows, Couch & Chair, Beds,dressers,chests, Cedar chests, Basket collection, Washer/dryer, Stoves/Refrigerators, 88 Cadillac Brogham 42k, Bicycles (2), Table & Chairs, Rocking chairs/stools, Dishes, Lamps, Framed art, New shower stall, TV, Filing cabinet, Roll top desk, Book shelf, Wheel Barrows, Vacuum cleaners, End tables, Flatware, Tools, Seth Thomas Mantle Clock, Christmas Decorations, Cola Cola Tray, Twin Bed, Roll away bed, Lingerie chest, Trunks, Swivel rockers, Desk, Lawn Chairs, Office chairs, Sewing machines, Mailbox, Mikasa China Richmond Pattern, Hanicap shower chair, Handicap potty, Depends, Glassware, Tupperware, Lanterns, Wood stove Fisher, Clocks, Hair dryer, Mirrors, Coat racks, Cedar wardrobe, Electric treadmill, Old school desks.
This property to be sold in 7 tracts being 46.6 ac+/-.
TERMS: Buyer will be required to sign lead base paint waiver. 10% buyers premium to be added to final bid to determine final sale price. 15% down day of sale, balance due on or before 30 days. 2017 property taxes to be prorated.
PLEASE JOIN CW FOR ANOTHER EXCITING AUCTION DAY!
SALE HELD IN CONJUNCTION WITH DUVALL REALTY LLC MARK DUVALL (BROKER) (270)-734-9672
For more information contact Chip Wilcoxson Principal Auctioneer (270)-537-3205 or Mark Duvall Broker/Auctioneer (270)-734-9672.